X2 Print Accounting - logSheet 2
About logSheet 2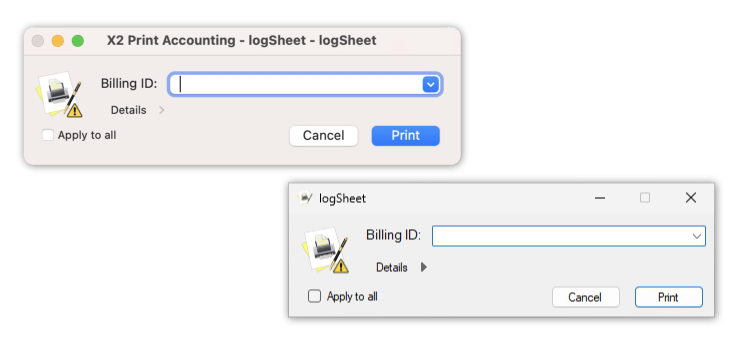 logSheet 2 is a cross-platform, client-based print accounting and document analysis solution for any office, legal practice, creative studio, or architectural firm that is looking for a way to track, recover, or charge-back printing costs.
logSheet is available for macOS and Windows.
New in logSheet 2
logSheet 2 introduces several new productivity-enhancing features, such as Intelligent Job Batching, customizable Smart Lists, and one-click setup with logSheet Server using DNS Service Discovery.
logSheet 2 also features an enhanced print job tracking engine, including support for the majority of RIP's, and printer drivers, as well as printer media types and duplex tracking.
The new logSheet Manager allows for instant report generation using built-in and user-created Smart Lists. Drag-and-Drop importing of Billing IDs, and exporting of Job Logs to any application is also supported.
The new logSheet 2 Server can serve as a central job log synchronization point. Setup and management of each client has never been easier.
Product Features
The Best Print Solution for macOS and Windows
logSheet 2 maintains a consistent look and feel while taking advantage of the unique technologies offered by each platform.
Intelligent Per-Application Job Batching
A natural evolution of batching, Intelligent Batching in logSheet 2 allows for presets to be assigned per-application or globally.
Ideal for Cost Recovery
The easiest solution used to bill print jobs back to a project code, or a specific client. logSheet 2 will stay out of the user's way while providing precise data for us in cost recovery. The technology is proven, reliable, and cross-platform.
Easy Reporting with Built-In Smart Lists
Smart Lists are stored queries that allow for quick and convenient filtering of job logs. Make Smart Lists for device usage reports on a daily, monthly, or yearly basis, or add them to speed creation of client invoices.
Billing ID Auto-Complete
This handy feature will attempt to automatically complete the Billing IDs as you type them.
Simple Cross-Platform Setup
By utilizing DNS Service Discovery discovering and selecting a server to synch with is simple and intuitive.
Client-Side Tracking
Client-Side print tracking technology allows for direct use of network printers, retains print job data integrity, provides more precise color management, and eliminates the need to centralize printers on a single print server.
Tracked Items
Printer Name
Printer Device URI
Media (Letter, Legal, etc.)
Media Type (Plain, Glossy, Transparency, etc.)*
Page Size (in PostScript Points)
Computer Name
User Name
Time and Date
Job Name / Document Name
Application Name
Number of Copies for Job
Number of Pages for Job
Duplex Information
Print System Job Identification
Job Color Information (T/F)
* If supported by device driver.
logSheet Manager
The easiest way to manage Billing IDs and captured data in your organization. The new Manager generates easy to read summaries of printing activity that make the perfect tool for bill back.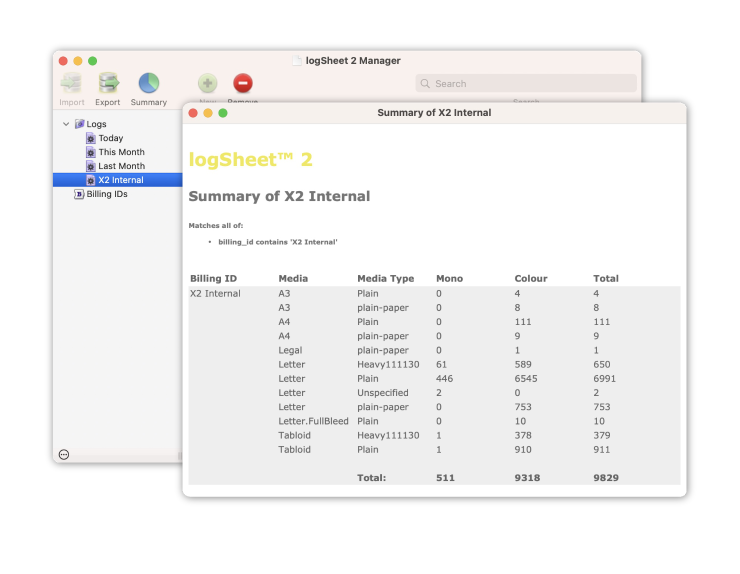 logSheet Server
logSheet can be used stand-alone or in conjunction with the free server add-on that comes with the download. The optional server allows you to centralize logs and generate one report for all your users, it also distributes billing id codes to instances of logSheet set to synchronize with it.
logSheet server is not a print server. You won't need to share your printers from the computer with logSheet server installed on it. Just keep using your local and network printers as before. logSheet tracks print jobs on the local computers and does not require you to use your printer any differently than you normally would. This eliminates issues with drivers and printer specific features.
logSheet Pricing (Canadian Dollars)
Per seat
Price per seat
100+
$38.00
50-99
$41.00
25-49
$45.00
10-24
$49.00
1-9
$54.00


Site License*
Price
Up to 1000 seats
$14,500.00
Up to 500 seats
$8,500.00
Up to 200 seats
$5,000.00

*Site licenses require a written agreement. Please email sales@x2studios.com for detials.

Support and maintenance agreements are available for this product.
One year is 20% of the retail price while 2 years is 30%.